Business Process Outsourcing
Raise your ability to compete by outsourcing non-core business
The environment and issues that surround businesses
As competition between businesses in the global marketplace increases, it becomes more and more difficult to give your company a competitive edge. In this highly competitive landscape, one strategy that has become popular is improving efficacy by focusing on their core business.
Issues facing companies

Sudden Retirement
Lack of skills and/or experience in employees
Inadequate understanding of federal and state laws and regulations
Cross culture miscommunication between Japan and America
Lack of organizational transparency
What does Pasona offer?
We help to further strengthen our partners by outsourcing non-core business so a company can focus limited resources on core business.

Reduce the risk of sudden retirement

Improve efficiency of business processes

Optimize and standardize business processes

Create a backup system
to increase stability
and continuity
Continually improve business using knowledge gained from over 300 businesses across the US
Our solutions
1
Payroll processing / Attendance management
Our staff has a wealth of experience and a thorough understanding, not just of payroll processing systems, but also of the laws and regulations on a national and state level. This allows us to offer optimal payroll processing and accurate data.

Business related to payroll processing for local staff
Payroll processing for local staff for exempt and non-exempt employees

Business related to payroll processing for expatriate
Payroll coordination that adheres to regulations for overseas postings (NET amount confirmation)
Payroll processing
Tax return support service

Payroll / Attendance management system support
Payroll processing system installation support
Expatriates management system installation support (AGAVE installation support)
Payroll Processing Service Flow

We align our services with your needs, from daily entry business performed by accounting professionals well-versed in US accounting practices, to monthly and yearly settlements, to consolidated settlements for the Japanese head office.

General Accounting
Accounts Receivable Management
Accounts Payable Management / Processing
Account Balance Confirmation
Fixed Asset Register Management

Monthly / Annual Closing
Report Creation Preparation for Japan Head-Office
Consolidated Financial Statement Creation Preparation
Financial Statement Creation

Expense Calculation Process
Expense Settlement Processing Service
Expense Calculation System Installation / Support
Accounting Business Service Flow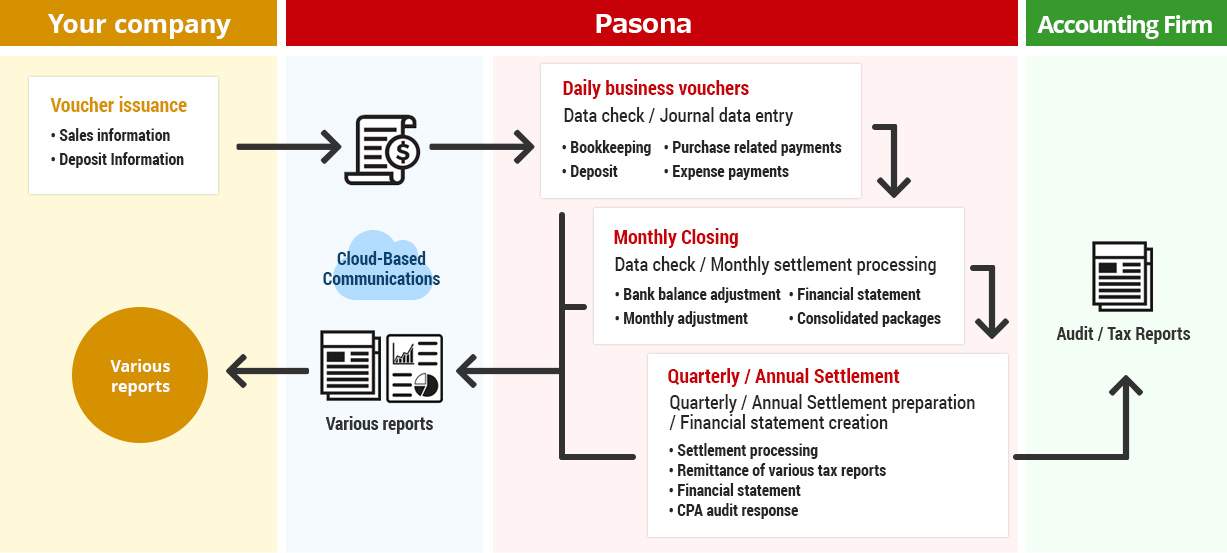 3
Human resources / Employee benefits (Insurance / Benefits)
We offer solutions that will meet a wide variety of needs related to human resources such as management for each kind of insurance and paid time off, as well as acting as an agent in administrating business related to employee benefits.

HR Administration
New Hire Onboarding Process
Employee Resignation Process
PTO / Paid Vacation Tracking

Benefit Administration (Medical, Dental, Vision, and Life)
Benefit Administration Service
Benefit Enrollment / Withdrawal Operation
Change Plan / Announce Open Enrollment
Create Census Report
Check Insurance Bills

401K Administration
New Hire Enrollment Process
Contribution Withdrawal Process
Change Contribution Plan
Process Employee Contribution and Company Matching
401K Seminar for Employee
Create Census Report
Pasona employee benefit business outsourcing example
New hire onboarding process, Employee resignation process
Insurance – management of benefits for medical, dental, vision and life insurance
401k enrollment change procedure
Paid time off / Sick leave management
If you have any inquiries about our Workforce Solutions, please contact us.
Contact Form
Other Solutions
HRS
Management strategy starting from human resources
Human Resource Solutions
BPR
Make your business even stronger by simplifying and optimizing your back office business
Business Process Re-engineering
KPO
To give your company a global value
Knowledge Process Outsourcing